Join the thousands of families that read our magazine every issue!
The Casey and Kyle magazine is a family-friendly publication that we publish quarterly. Our mission is to use the humor of Casey and Kyle as a bridge to get young readers excited about the bigger world of art and literacy.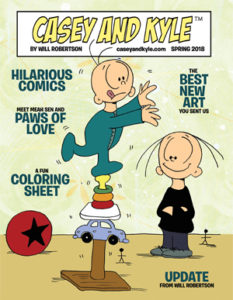 Each issue features a mix of new and classic Casey and Kyle cartoons as well as reader-submitted art and exciting profiles of artists, writers and other amazing people.
Click here to download a sample issue.
Our next issue arrives in April 2019.
We allow select sponsorships from companies and organizations that we think will fit well with our readers. If you'd like to join our proud team of sponsors, please contact us to submit your company for review. We reserve the right to refuse any advertisement.